You are not all Boring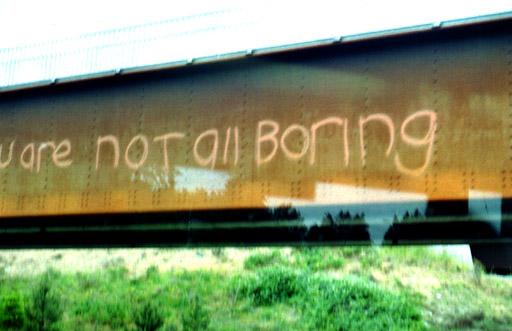 ### News!
# March 23rd, 2011 – A pair of releases!
My cassette label Boring Tapes has released a pair of cassettes that feature my music. First is Rooster Sauce, a compilation featuring several artists, including a track by

You

are not all Boring and an ambient-drone piece from my new project Sleep in

Cryostasis

. The other cassette is a full ambient-drone release under the Sleep in

Cryostasis

name, entitled Data Logs I. Both are available in digital and cassette formats, follow the links! Enjoy.
# September 5th, 2010 – A new EP! "Dubs #2"
This is a sequel to the Dubs #1 EP that I released last year called Dubs #1. That EP was four dubby breakbeat tracks, this one follows that up with 6 more! And a house-y remix! Some of the dubby breakbeat tracks this time are abit more dubstep, but that's good, right? Right! You can get it by clicking here! Keep watching, I think I'll be posting another dubstep EP in the next few weeks with some additional older tracks that I never really did anything with. Good stuff, though! Otherwise I wouldn't be sharing it with you. If you are affiliated with Jahtari and are reading this, pls sign me.
Over the past few months, I've set up a cassette label for releasing some of my music. This is the first release! It's a C39 with nine songs comprising mostly of chillwave/synthpop styled songs with influences from dub, italo and even ska sprinkled in for good measure. More information can be found at the Boring Tapes webpage, as well as streaming samples.
# December 25th, 2009 – Another New EP, "Dubs #1"
I just realized I didn't post an update on here when I released my last EP, "Dubs #1". It has been downloaded thousands of times on filesharing sites, and is generally my most successful release so far. It consists of breakbeats, basslines and dub effectx. Fun times! You can get it here.
# September 27th, 2009 – New EP,

"The Light Through The Branches"
I recently posted to numerous websites, including archive.org, a brand new EP comprising of new guitar based instrumental indie-dance apocalyptic-balaeric style music. Some blogging has been done, generally it's been well-received. You can get it here http://www.archive.org/details/TheLightThroughTheBranchesEP or check your favourite torrent site. One of the songs from this release has a handmade video with a unique edit of the track you can see here: http://www.youtube.com/watch?v=jhWwIaahT7Q. I hope you dig it.
# November 28th, 2008
The Space EP (NABI-025) is an EP collecting six spacerock, post rock, nu-disco and acid house tracks all with the theme of outerspace. I posted it about a year ago but forgot to post an update here. There'll be a new release soon. Also, I noticed that "Boring Dubs Vol 1" was taken down somehow from archive.org... oddly, they never told me why. I've emailed them something like 10 times too but to no avail! So.. that's that I guess.
# November 4th, 2007
Boring Dubs vol 1 (NABI-DUB01) was released, posted to archive.org on October 27th. It's become my most downloaded release! Hooray.
Also, I set up this webpage today!

All music on this page is licensed under a Creative Commons Attribution-ShareAlike 2.5 License.