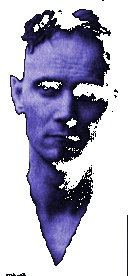 Real Name: Willhelm Shroeder..?

Birthdate: ?

Current Project: Frontline Assembly,
Delerium, Will (is "toast"), Cyberactif,
Noise Unit, Intermix.

Was: Bass Synth... Some vox work
at best.

Notable Quote: "Can you imagine
what things will be like 100 years
from now? All the futuristic stuff
we're doing now will be obsolete"