Ogre's stance and Puppy's stage show reached a culmination with VIVIsectVI. "This was the time we were all most together," cEvin happily recollects. For Ogre, it gave him ample opportunity to bring to the fore his views on animal rights, while the tour's theme was sparked by experiments of a most hideous nature.

"In the Philadelphia experiments, rhesus monkeys were used to try to find out what takes place when a sudden impact head injury occurs. The animal was restrained in a headlocking device, which of course blows the whole experiment, and the animal's head is snapped back really hard, like a nut against the ground. Afterwards, the animals just sat there drooling, because they were absolutely brain dead.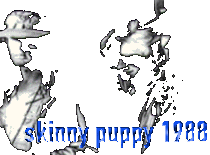 "We've a photo of one handler in the "Testure" video, she's holding a monkey up and laughing. It still makes me cry when I think about it; it was really, really ugly. And so with the VIVIsect tour, I tried to pay homage to that. I wore a mask that was half monkey/half me built into the helmet. During the last transformation, the person becomes the experiment."
Recreating the sheer horror of these experiments on stage, Ogre was strapped in a large medieval style chair, which was spun upside down, as blood splattered the stage. A model dog was also used, and the show was so upsetting that they were actually arrested for animal abuse. When the police discovered the dog wasn't real, Puppy were fined for being a public nuisance instead.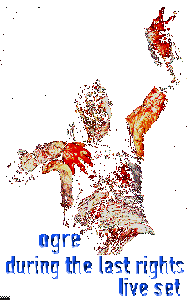 Like cEvin, Ogre also remembers VIVIsectVI as the "most fun Skinny Puppy album to make." But then, this was during what the singer refers to as his "sleep deprivation period," as his drug usage began spiraling out of control. But it was also during this time that Puppy met Al Jourgensen, who would play a less than salubrious role in this story.
For that's whent it all went wrong. "Ogre deserted us," and even six years on, the emotion is still plain in cEvin's voice. It's the sound of a scorned lover; baffled, angry, but mostly cut to the quick. "They pretty much shoved me out the door," Ogre's quick retort equally etched in pain. His is the sound of the rejected; leaving, but not of his own accord.
At the center of the separation lies Al Jourgensen. "We thought that Al would kind of join Puppy, and come tour with us," cEvin recollects.
"It was kind of like an exchange student thing, Rave (producer Dave Ogilvie) went to help Al, then Al came up to help him." Ogre add s. "It got to be really, really gross in the studio; Al locked everybody out and did his mixes, then Rave responded by spending three days in the studio doing his. The competition was kind of good in a way, but it opened up all these wounds."
By the end of the recording session, there'd be no tour, at least not for Puppy. For as Ogre says, "I was really fed up, so I went out on the Ministry tour, which was just as horrible if not worse. Rabies was a real dysfuctional record, and I think that's how the group got to the point of absolute dysfunctional behavior." With this, cEvin whole heartedly agrees.