| | |
| --- | --- |
| | Hamletmachine |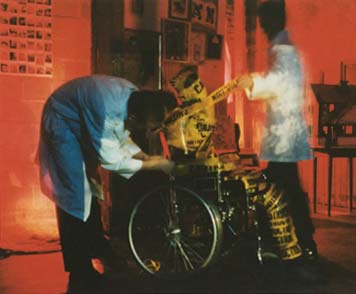 View part of Hamletmachine (RealVideo)
View part of Hamletmachine (photo gallery)

Press reaction
-- < Press Release for the Hamletmachine Project. >--
.....< Gus Lucky's Art Gallery ..................< and >
the Praxis Group >......

August 1-27, 2000. Minneapolis, MN.

……….--< Welcome>--……..



"……I want to be a machine. Arms for grabbing Legs to walk on, no pain no thoughts…."

--<……End Transmission>--……..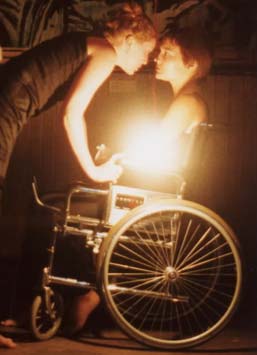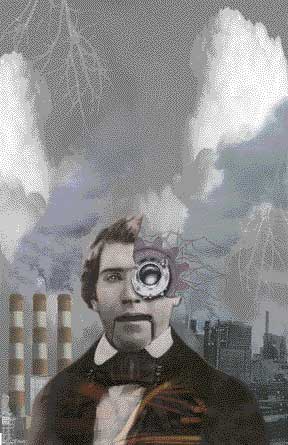 Gus Lucky's Gallery and the Praxis Group announce the opening of Heiner Müller's Hamletmachine, a multi-media installation of • performance • video • music • puppetry • sound • and the M@chine • by the HumanM@chine Fabrication at Gus Lucky's Art Gallery in Minneapolis, MN. The full performance schedule is contained below. The Praxis Group and Gus Lucky's began a collaborative relationship in October 1999 when the Praxis Group opened its installed performance "Everyone in Lab Coats: A 25 Year Retrospective" at Gus Lucky's Gallery.

< Gus Lucky's Gallery > opened in 1997 and since that time has shown over one-hundred artists from all over the United States. Under the curatorial direction of John Whitney, Gus Lucky's Gallery continues to support and produce work by artists experimenting with divergent media in various disciplines.

< The Praxis Group > formally re-emerged in 1996 after the Catastrophic Schism of 1966. Since that time, the Praxis Group has created performance pieces in various locations such as the Mall of America, the Walker Art Center, The Guggenheim in New York City and the Palace of the People in Bucharest, Romania. A complete description of Praxis Group work can be found at http://www.waste.org/praxis.

<The HumanM@chine Fabrication > performance and installation of Heiner Müller's Hamletmachine remains the most ambitious project to date for both the Praxis Group and Gus Lucky's Gallery. The installation and performance of Hamletmachine is a rare opportunity to see Heiner Müller's most impenetrable texts.
"….I'm not Hamlet. I don't take part anymore. My words have nothing to tell me anymore….."
< Hamletmachine > by Heiner Müller >
Written in 1976, Hamletmachine remains,"Müller's most complicated text, and the most difficult to decode" as suggested by translator Carl Weber. After reading the text, The HumanM@chine Fabrication suggests using the following list of terms when describing Hamletmachine: erudite, abstract, esoteric, Kantorian, a cutting-edge tour de force, a whirlwind expose, a radical critique as from the pen of TS Elliot but viewed from a 20th Century wasteland of Post-World War II carnage, an unyielding deconstruction of the modernist positioning of the individual in which a scathing social commentary forces Hamlet and Ophelia outside the text to challenge the efficacy of the intellectual in history as products of their material conditions. And of course, the text is post-modern, so post- it's not even conscious of the past that produced a future from the present………..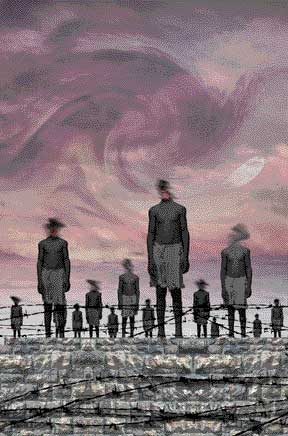 "…..Blablablablabla….the ruins of Europe in back of me…."
<Dates><Times><Special M@chine Events>
August 1, 2000 < 4pm-12am > Special 8-Hour Hamletmachine performance in conjunction with the Minnesota Fringe Theatre Festival.
The Audience may come and go as they choose. No intermission will be offered. Viewing all 8-Hours of the M@chine is not required but a good idea.
Live broadcast of the 8-hour M@chine on the Internet at: http://www.fringefestival.org <Courtesy of Bitstream.net>
The HumanM@chine Fabrication will construct a digital ChorusM@chine with Collaborators from around the world. Live Internet M@chine feeds from: New York City, London, Argentina, Southern India, and Istanbul.
Non 8-Hour Performance Dates:
August 11, 12, 19, 25, 26 8pm at Gus Lucky's Gallery
August 20, 21, 27 7pm at Gus Lucky's Gallery
< Gus Lucky's Art Gallery>
1626 E Lake Street
Minneapolis, MN 55407
612-728-9668
$8 M@chine Entrance Fee.
Special Hamletm@chine Performance:
Friday, August 18, 2000 < 8pm >
Bathhouse Gallery
401 East Hennepin Avenue
Minneapolis, MN 55414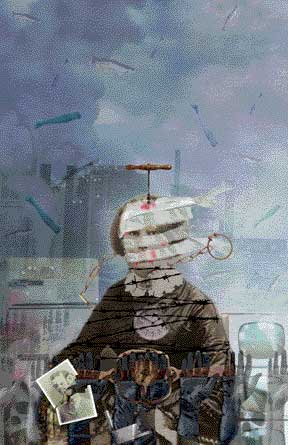 Window Installation of the < Opheliamachine > at:
Gallery 360
3011 West 50th Street (50th and Xerxes)
Minneapolis, MN 55410 <612-871-8488>
< HumanM@chine Fabricators >
< Sound, Video, Internet Feed Machines >
Jonathan Ford
Bryce Kastning
Suzanne Scholten
Amy Turany
Mike Woodworth
< Performance Machines >
Matthew Glover
Katie Guentzel
Erik Hoover
Tom Lynch
Jessica Schnabel

< Installation Art Machine >
John Whitney
< Puppet Machine >
Lisa Arnold
< Costume Machine >
Moon Brick-Nord
< Properties Machine >
Jon Nelson
< Dramaturg Machine >
Scott Magelssen
< Stage Manager Machine >
JC St. Onge
< Additional Direction Machine >
Nathan Chistopher
< Box Office Machine>
Kerry Keyes
< Photography Machine>
Lauren Allen
< Web Machine>
Eric Sollien
< Original Artwork Machine>
Bruce Zeines, Digital Dharma Inc. (NY)
< Director Machine >
John Troyer