Quick Willie
Folks interested in checking out some partial Lab meanderings in Minneapolis will want to stop by the Southern Theater for this event featuring LCL Drummer and Willie August Project Co-Conspiritor Jeremy Hauer. (I hear there may be some pre-recorded LCL used as interludes for those of you interested in that angle)
Expect Greatness!
Southern Theater presents
EMPIRE AT TWILIGHT
by Ben Siems
An evening of new music, dance, and improvisational lighting design. Featured performers will include: Ben Siems on guitar and cello; The Willie August Project's Jeremy Hauer; legendary composer-improviser Carei Thomas; from New York, cellist-composer-choreographer Malina Rauschenfels; dancer-choreographer Jennifer Mack; and award-winning lighting designer Jeff Bartlett.
Feb. 28 and Mar. 1, 7:30 p.m.
pre-concert talks by Siems, Thomas and Rauschenfels at 7 p.m. both nights
TIX: $14 general;$10 student/senior
For reservations, call the Southern Theater at 612-340-1725, or visit www.southerntheater.org. For more information visit the NEWS section of this web site.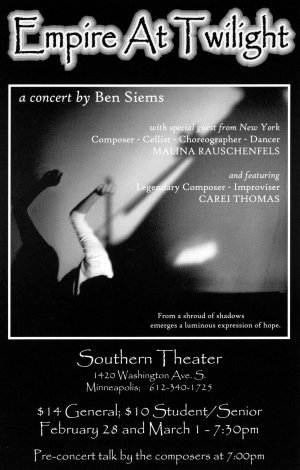 ---------------------------------------------------------------------------